UPDATE:  Due to the snow storm that hit the New York area on Monday and Tuesday, we have cancelled Wednesday's Chat N' Chew . The event will be rescheduled at a later date. Be safe. – The NYABJ Board
Join the New York Association of Black Journalists
for our
CHAT '
N CHEW series:
Get
THINspired with Mara Schiavocampo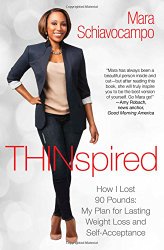 Wednesday, Jan. 28 at 6:30 p.m.
Writer's Guild of America East (WGAE), 250 Hudson Street
ABC News correspondent Mara Schiavocampo will candidly discuss her new book Thinspired: How I Lost 90 Pounds: My Plan for Last Weight Loss and Self-Acceptance. This is an event for EVERYONE!
FREE for NYABJ members
$15 for non-NYABJ members
This inspirational book from ABC News correspondent Mara Schiavocampo takes you on her journey of weight loss—and helps you shed pounds and find peace, health, and happiness in the process.
Like so many people, Mara Schiavocampo had struggled with weight for most of her life. She tried every diet on the planet, suffered a debilitating eating disorder, joined a bizarre food cult, took dangerous pills, worked out for insane amounts of time—and still tipped the scales at nearly 230 pounds. But more than reaching a healthy weight, Mara wanted peace and freedom from the constant mental torment brought on by food. A healthy and effortless way of life. For the rest of her life.
And that's what she did.
To purchase the book in advance visit Amazon.com.